Management of biodiversity in Victoria requires knowledge about our environment, its species and its processes. With the right knowledge we can make informed decisions about what actions will deliver greater benefits, for more species, and across more landscapes in Victoria. However, our knowledge about the environment is incomplete.
To address this challenge, ARI has partnered with the University of Melbourne and other DELWP Biodiversity Division staff to develop the Biodiversity Knowledge Framework. The framework helps prioritise knowledge gaps and set an agenda for environmental research in Victoria.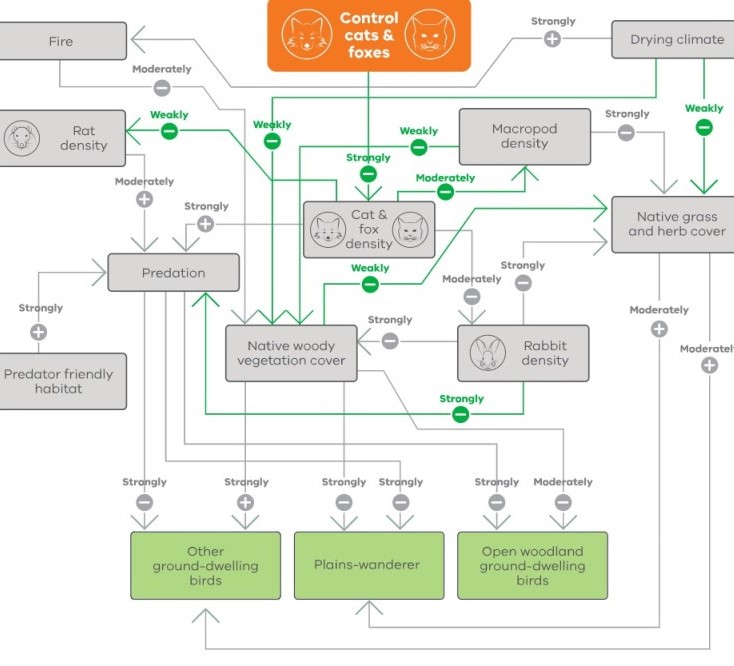 Underlying the framework is a network of causal models describing how we understand our environment and the relationship of conservation actions to biodiversity. These models were developed by ARI through a series of extensive expert elicitation processes and provide a consistent and transparent evaluation of knowledge gaps. Over time new models will be added and updated to reflect new research and expert feedback.
Through an online, interactive Knowledge Portal, researchers, science investors and land managers can now investigate the detail of the framework and identify areas of uncertainty where new research would be highly valued. As these knowledge gaps are filled, land managers will have a more complete understanding on how they can best manage our environment and support biodiversity.
The portal has been designed for anyone who is interested in delivering environmental research critical for management, including academic researchers, land managers, conservation consultants and policy makers. It allows users to:
Explore key knowledge gaps for conservation actions
Test causal relationships and assumptions about conservation actions
Form research questions that will address key knowledge gaps
Information represented in the framework is aligned with DELWP's biodiversity decision-support tool Strategic Management Prospects (SMP) to support the Victorian Government's 'Protecting Victoria's Environment - Biodiversity 2037' plan. The Knowledge Framework is funded by DELWP Biodiversity Division.
For more information contact: matthew.bruce@delwp.vic.gov.au
Page last updated: 23/06/21