'Essential' modelling software provides a platform for developing stochastic population models that allow for wildlife management policies to be assessed and compared quantitatively. Essential has been used to provide management assessment on a number of terrestrial and aquatic species such as Leadbeater's Possum, Koala and Murray Cod (see journal articles below).
Todd, C.R., Lindenmayer, D.B., Stamation, K., Acevedo-Cattaneo, S., Smith, S. and Lumsden, L.F. (2016) Assessing reserve effectiveness: application to a threatened species in a dynamic fire prone forest landscape. Ecological Modelling 338: 90-100
Todd, C.R., Forsyth, D.M. and Choquenot, D. (2007) Modelling the effects of fertility control on koala-forest dynamics. Journal of Applied Ecology 45(2): 568-578
Todd, C.R., Ryan, T., Nicol, S.J. and Bearlin, A.R. (2005) The impact of cold water releases on the critical period of post-spawning survival and its implications for Murray cod (Maccullochella peelii peelii): a case study of the Mitta Mitta River, southeastern Australia. River Research and Applications 21(9): 1035-1052
The example output below shows the comparison between alternative management actions depicted by the black and red lines, where the red line indicates a decreased risk of extinction associated with that management action. Multiple actions can be considered and quantitatively ranked.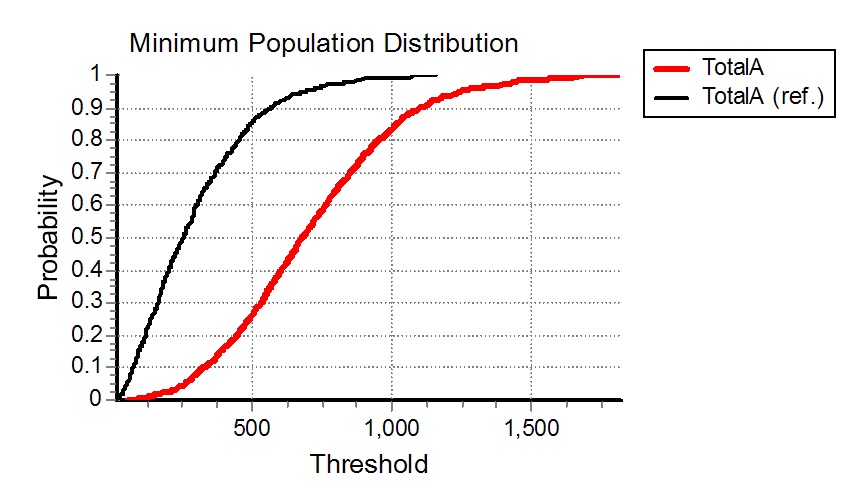 Essential is available as an .exe file (provided here in a zip folder). It can be installed on any PC compatible computer and does not access or modify the computer's registry file.
For more information on Essential contact: charles.todd@delwp.vic.gov.au
Murray Cod Management Model
The Murray Cod Management Model (a version of Essential) examines impacts from threats and evaluates recovery options. Four important components are bundled in with the install file: ARI report describing the project development, user manual describing how to use the model, software and back up of the model.
The model software is available below as an .exe file, and can be installed on any PC compatible computer. It does not access or modify the computer's registry file.
The following report and user manual (included in the software package above) are available via the Finterest website and details the development of the model:
Todd, C.R. and Koehn, J.D. (2009) Murray Cod modelling to address key management actions: final report for project MD745. Arthur Rylah Institute for Environmental Research, Department of Sustainability and Environment, Heidelberg
Todd, C.R. and Koehn, J.D. (2009) Murray Cod Management Model: User manual. Arthur Rylah Institute for Environmental Research Report to the Murray Darling Basin Commission (now Murray-Darling Basin Authority), Department of Sustainability and Environment, Heidelberg
For more information contact: charles.todd@delwp.vic.gov.au
Page last updated: 17/08/22