DELWP's Science Symposium was held over 3 days (Tuesday 18th- Thursday 20th August 2020) for DELWP and our partners, during National Science Week, and featured:
presentations from our Scientific Reference Panel members
a series of 3 minute 'lightning' talks
DELWP Science Awards
examples of sci-art that help us interpret and better engage with science.
The Science Symposium is being delivered as part of DELWP's Science Implementation Plan, which provides a roadmap on how the Science Statement will drive stronger collaboration across the department and better recognise the value and impact of our scientific work by improving science visibility and connectivity. This year its going online and this means that participants can join in for the whole event or for a few minutes at a time.
The symposium is built around the theme of 'Discoverability and Connectivity'. Science underpins all our work at DELWP and enables us to connect, involve and inform the Victorian community in evidence-based decision making which will be showcased through our 'lightning' talk series.
DELWP Science Reference Panel
To assist with DELWP's science development, the DELWP Scientific Reference Panel has been established, and they delivered presentations on Day One of the Symposium. The Reference Panel provides advice and support to further embed science in the department's day-to-day practice and create a strong science culture. Panel members were selected for their wealth of experience, exceptional collaboration record and capacity to lift the profile and impact of DELWP's science. The members' collective expertise represents the many dimensions of our department's business and research. They are:
Dr Georgia Garrard, Quantitative ecologist from RMIT University
Dr Rosemary Hill, Principal Research Scientist with CSIRO Land and Water
Dr Peter May, Bureau of Meteorology Head of Research
Dr Jack Pascoe, Conservation Ecology Centre Conservation and Research Program Manager
Professor Abbas Rajabifard, Head of the Infrastructure Engineering Department at the University of Melbourne
Professor Gary Sheridan University of Melbourne Ecosystem and Forest Sciences expert Associate
Dr Marta Yebra (DOCX, 353.0 KB), a Senior Lecturer in Environment and Engineering at the Australian National University
The 'lightning' and panel member talks are available online in our DELWP Science Symposium YouTube playlist. They can also be accessed from this list of presentations (DOCX, 4.4 MB) via links to each individual talk.
Lightning talks
Short 'lightning' talks at the Science Symposium on Day 2 provide a great way for us to connect with our colleagues and discover the breadth of DELWP research, in a very accessible way. In addition to DELWP staff, presenters are from some of our key partners including Zoos Victoria, Behaviour Works, Royal Botanic Gardens, Phillip Island Nature Parks and more.
The 'lightning' and panel member talks are available online in our DELWP Science Symposium YouTube playlist. They can also be accessed from this list of presentations (DOCX, 4.4 MB) via links to each individual talk.
Science Awards
The DELWP Science Awards acknowledge and celebrate our people and the fantastic scientific work they do. The awards were announced by DELWP Secretary John Bradley at the Science Symposium on Day 3, and highlighted the importance, quality, value, and impact of our science capability and our effective partnerships with other science collaborators. These awards help give DELWP's science achievements greater visibility and recognise its role in meeting the major challenges faced by Government, industry and the community in a rapidly changing world.
The award categories and winners (congratulations to all!):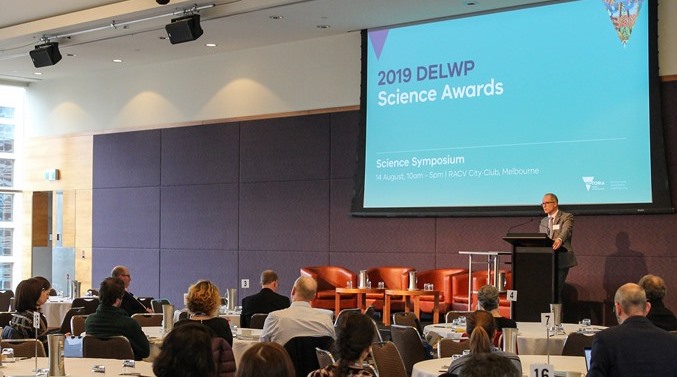 Sci-art
Science can be expressed and communicated in many ways including through the visual arts. The growth of science-inspired art continues to help share the impact of science to wider audiences and foster stronger connections with the role of science in society.
Last year's symposium featured Ben Beeton where he presented his interpretation of what fossils of today would look like millions of years into the future. This was a huge success and lead us to reflect on our role as land managers. This year, we will tap into existing online resources that help us reflect or see science in a different way.
The following links will take you to artists that incorporate science in their work using a range of mediums - happy exploring!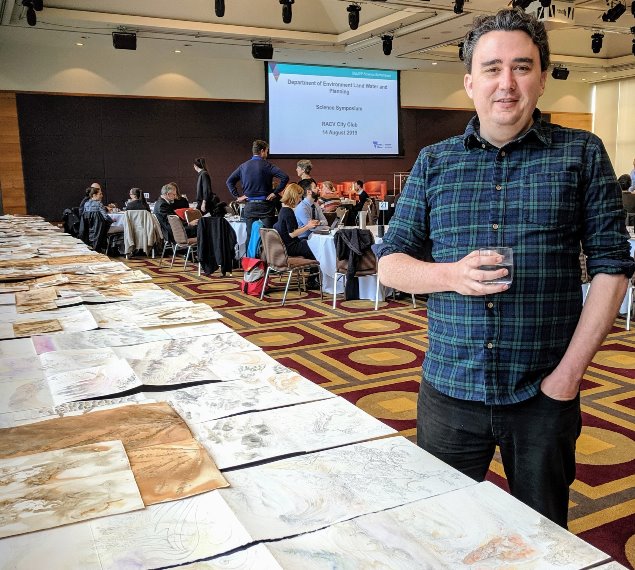 Page last updated: 28/08/20