Bushfires in Victoria over the summer of 2019/2020, in particular in East Gippsland and north-east Victoria, have significantly impacted biodiversity. For freshwater aquatic species, rainfall after bushfire events can be lethal. The rain can wash ash, debris and sediment into waterways, which can suffocate or bury species. Chemicals used for fire suppression might also be washed into waterways, contaminating the water and potentially killing vulnerable species. Many aquatic species within the Gippsland bushfire zone represent just a single global population, with very restricted distribution over a very small area. This makes them very vulnerable to the risk of extinction.
ARI staff are closely involved in many aspects of the Victorian Government's response (Victoria's bushfire emergency: Biodiversity response and recovery).
This includes:
providing strategic input and advice on appropriate actions
reconnaissance of priority species and sites
emergency extractions, translocation and ex situ management to prevent extinctions and limit decline.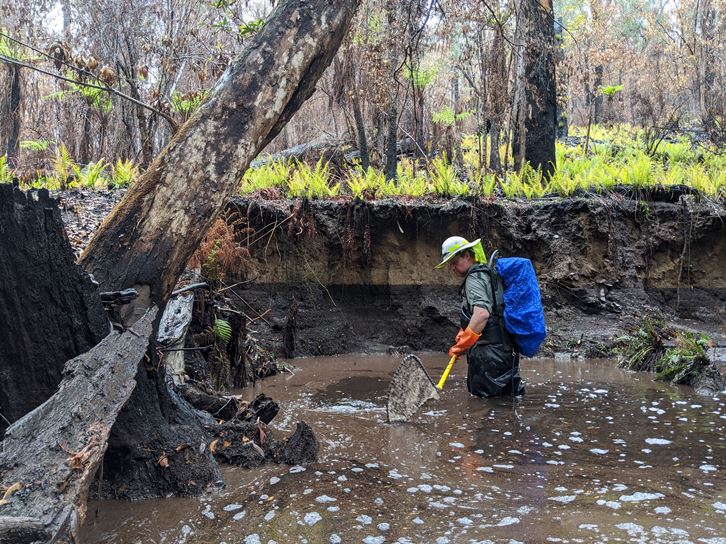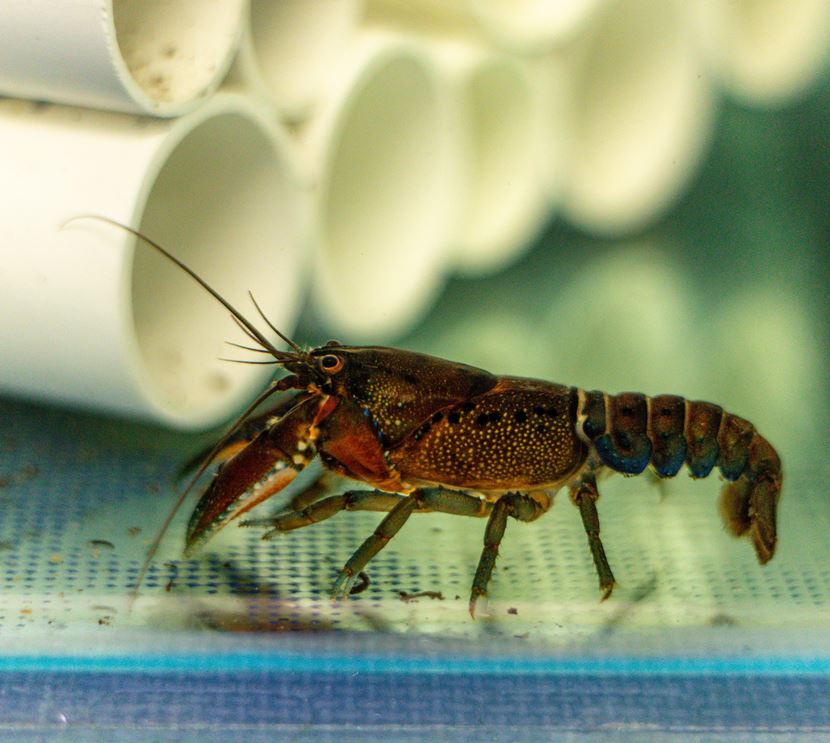 Specific actions in north-east Victoria have included:
moving Macquarie Perch from fire affected sites in the Buffalo River to nearby rivers and to the Victorian Fisheries Authority hatchery at Snobs Creek (see video on DELWP Hume facebook page).
moving Murray Cod in the Ovens River upstream to areas unaffected by fire
Specific actions in East Gippsland have included:
preparing rescue plans for 15 critical target species. Many of these fish, crayfish and mussels have >80% of their distribution in the Gippsland bushfire affected areas.
extracting galaxiid fish, crays and mussels from the wild and temporarily housing them at the ARI aquarium facility. This has included Dargo Galaxias, East Gippsland Galaxias, Yalmy Galaxias, McDowalls Galaxias, East Gippsland Spiny Crayfish, Orbost Spiny Crayfish, Arte Spiny Crayfish and Depressed Freshwater Mussels.
Glenelg Freshwater Mussels from a fire affected area in South West Victoria were also extracted and housed at the ARI aquarium.
Aquatic fauna rescued from the wild were returned to their original homes in September 2020.
Their habitat has improved sufficiently and can now support their recovery. Animals were released over several days (see article on The Age website); Glenelg Freshwater Mussels were the last species returned which were welcomed back onto Country by Gunditjmara Traditional Owners (see article on the ABC website). All returned animals were in excellent condition and will support their recovering populations. Importantly the Gippsland Blackfish and species of galaxiids will be able to contribute to this year's spawning season, improving species sustainability in East Gippsland. Many lessons have been learnt regarding how best to maintain these threatened species in captivity. This valuable experience will inform guidelines for future captive maintenance programs.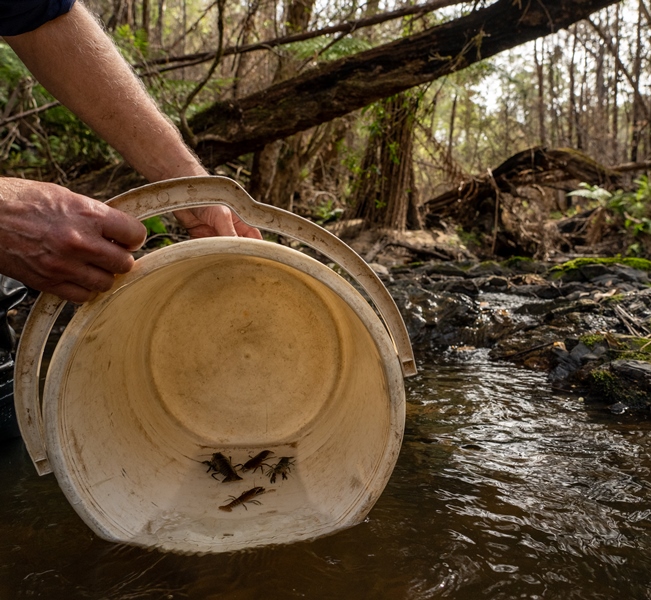 For more information contact: jarod.lyon@delwp.vic.gov.au
Also see our 'Natural Values Recovery Program following the 2009 bushfires' page for research on the impacts of the 2009 Victorian bushfires on flora, fauna and environments and how they recover, management of pest species and engaging the community.
The following video entitled 'Going home - threatened aquatic species return to East Gippsland', made in conjunction with Parks Victoria, shows ARI returning rescued aquatic fauna to streams in East Gippsland. This video is also available via the DELWP YouTube channel:
The following video entitled 'Rescuing threatened aquatic species after the East Gippsland bushfires', made in conjunction with Parks Victoria, shows ARI carrying out emergency extractions of various aquatic fauna in East Gippsland. This video is also available via the DELWP YouTube channel:
Page last updated: 28/10/22